In light of the Chicago Improv Festival that is already in full swing, we've compiled a list of some of our favorite laugh-out-loud books. Though they range from memoirs to socio-cultural critiques, all of the items in our top five have one thing in common: At one point or another, every single author has called our beloved city their home.
I Am America (and So Can You!) by Stephen Colbert
The host of The Colbert Report expands his satiric rants in this bestseller. Prepare to read about the war on Christmas, the Hollywood Blacklist, and the evils of the Kashi brand breakfast cereals.
Bossypants by Tina Fey
Second City alum and current media darling, Tina Fey writes about her formative years in the Philadelphia suburbs, her unrequited romance during college, and her love affair with the improv community in Chicago.
The Onion Book of Known Knowledge: A Definitive Encyclopaedia of Existing Information by The Onion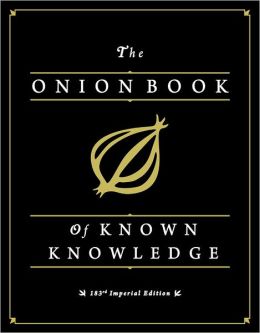 After a decade in New York City, the best fake newspaper you'll ever read decided to go back to its Midwestern roots and set up shop in Chicago. Entries include "crumbs," "Steve Jobs" and "the life stages of an Aunt."
I Like You: Hospitality Under the Influence by Amy Sedaris
Not quite sure how to kick out an inebriated guest from your home? Let comedian Amy Sedaris guide you through that and other sticky hosting situations in this how-to book filled with recipes and jokes.
Assasination Vacation by Sarah Vowell
Frequent NPR contributor Sarah Vowell takes the reader on a rip-roaring road trip to the infamous spots where president Lincoln, Garfield, and McKinley were killed. We only wish our history teachers had Vowell's witty and irreverent voice.
What are some of your favorite comedy books?